The Return! Jib Kidder Brand New Album!
September 26, 2012 2:45 PM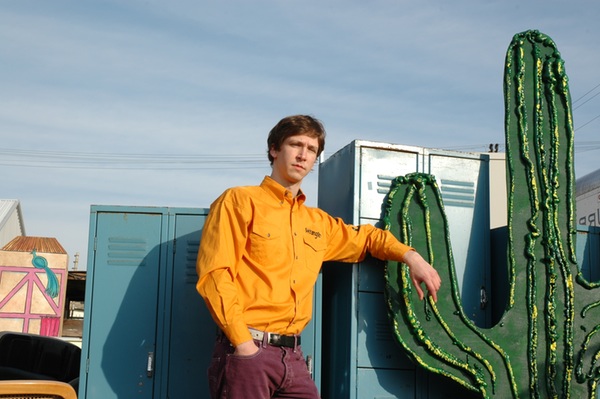 The one and only Jib Kidder sports his finest wranglers.
States Rights Records & Jib Kidder are back! We are so proud to announce today the release of Steal Guitars by Jib Kidder. Steal Guitars is a psychedelic road trip down the American highways with the AM radio playing that Bakersfield Sound of country music from the 50s & 60s. Mysterious genius, Jib Kidder's one of a kind experimental music approach and hip hop time signatures create a parallel world that exist in an imperceptible time period that is both the past and the future while eschewing simple nostalgia. Steal Guitars is a record about TIME, moving forward in time while looking back.
The meticulous construction of Steal Guitars creates something akin to a 3D paper collage of American western desert sunburn rattlesnake trucker travel plaza that wriggles with movement. The country in country music is USA. Steal Guitars is about the American mirages like love and money and labor.
Steal Guitars is accompanied by a collection of remixes, reworks, & collaborations called Steal Guitars: Fencing Partners featuring Julia Holter, White Rainbow, Wet Ones (e*rock & Bobby Birdman), Benoit Pioulard, Earzumba, Flap, Hamacide, Ben Lawless, & more.
Steal Guitars comes on beautiful 180 gram vinyl. We couldn't be more proud to present this to the world. Every vinyl purchase comes with download of Steal Guitars and Steal Guitars: Fencing Partners.
We've got a bunch of the songs to listen to over on the album page.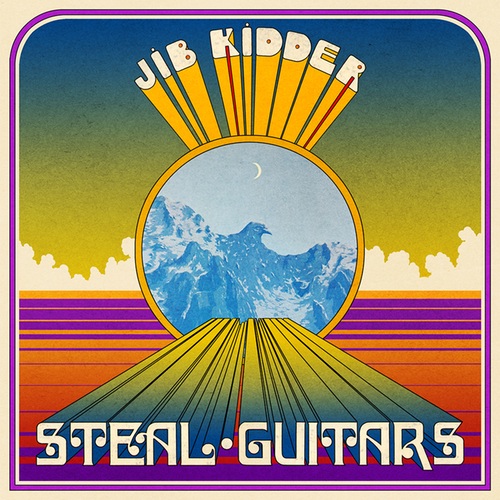 180 gram vinyl LP
$12

Steve Schroeder
steve@statesrightsrecords.com
Key Losers Drop a Killer Mini-Album In Exciting New Formats
June 16, 2010 10:27 AM

Album as poster?!? You better believe it!
Katy Davidson steered the good ship Dear Nora for years and a couple years ago she decided that it was time to retire that vessel. In the meantime there was Lloyd & Michael the excellent project with Marianna Ritchey. Songs built up and jamming with friends happened. There was a new feeling, a new vibration, a new band! Key Losers is the brand new band by Katy Davidson and States Rights is so proud to present the first release by Key Losers, Adjust.
All new things take adjustment and this mini-album is here to work through those issues with you. Adjust is emblematic of the general concept of transition. It takes its time in places, but also changes tone. It explores the ideas around alienation derived from capitalism. The sound is spacious and psychedelic with pop beauty reaching through the high desert small town dust.
Adjust comes in new formats for States Rights Records let me tell you ITS EXCITING. You can get it as a very limited edition TAPE with MP3s for 6 bucks. OR you can get Adjust as a POSTER with MP3s for 6 bucks. Its a very handsome poster that is 13" x 36". Finally you can get the TAPE & POSTER & MP3s for 10 bucks. Time to Adjust.
Tape + MP3s
$6
Poster + MP3s
$6
Poster + Tape + MP3s
$10

Steve Schroeder
steve@statesrightsrecords.com
Cains & Abels "My Life is Easy" & Spring Thaw Tour Dates
March 22, 2010 7:28 PM
My Life Is Easy on Vimeo.
Midwestern monoliths Cains & Abels are changing their policy on PLEASING THE PEOPLE. Before today they were ANTI-VIDEO, ANTI-CONCERT PLAYING, ANTI-RECORDING OF AWESOME NEW MATERIAL, but after a marathon debate session in C&A Congress and a midnight vote they have now become PRO-VIDEO, PRO-CONCERT PLAYING (in cities other than Chicago), and PRO-RECORDING OF AWESOME NEW MATERIAL! It's truly a great day for all Americans, music fans, and human beings world wide!
Historic!
I love this song "My Life is Easy" and I think they made a video which really does it justice!
Cains & Abels are leaving at the end of this week for a jaunty jaunt style tour through the Rusty Belt and the Meathook of America. Check the deets on these dates:
3/27 -- Bloomington, IN -- The Bishop w/Citay
3/28 -- Akron, OH -- The Matinee
3/29 -- Pittsburgh, PA -- Gooski's w/Becoming Projections
3/30 -- Philadelphia, PA -- World Cafe Live w/Folklore and Yellow Humphrey
3/31 -- Brooklyn, NY -- Sycamore w/Sam Buck Rosen(!)
4/01 -- Brooklyn, NY -- Coco 66 w/Mystery Roar and Weed
Also, C&A were recently in the studes (that's a fancy cool guy way of saying studio) recording new songs. Word on Twitter street is that bassist and lead vocalist David Sampson injured his fingertips so badly that he has now replaced his human skin with Krazy Glue! WEIRD!
Check these dudes out on tour!


Steve Schroeder
steve@statesrightsrecords.com